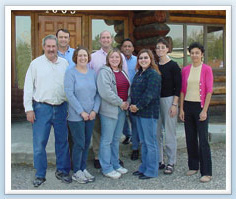 Brooks Range Contract Services, Inc. (BRCS) is an industry leader experienced in federal facilities management, including large facilities, remote facilities, high rise facilities, facilities in intensely urban centers, facilities located in extreme climates, facilities with day care centers, buildings of historical significance, and facilities with high security.
Our goals:
To maintain and operate facilities and their systems efficiently and effectively and at best value for the customer;

To maintain each facility as a world class, superior workplace that helps our customers increase effectiveness and efficiency of operations.
BRCS is a wholly owned subsidiary of K'oyitl'ots'ina, Limited (Kcorp), which was incorporated under the laws of the State of Alaska in May of 1981, pursuant to the provisions of the Alaska Native Claims Settlement Act (ANCSA). Kcorp is a 100% Alaska Native-owned corporation and was formed by the consolidation of the Alatna, Allakaket, Hughes and Huslia village corporations. BRCS became an incorporated legal entity in 1999. In 2000, the SBA certified BRCS in the 8(a) program. BRCS graduated from the 8(a) program in April 2009 and today BRCS maintains over 18 million square feet of federal property. As a total facility service provider, our expertise is evidenced in:
Project Management
Facility Maintenance
Mechanical Operations and Maintenance
EMCS Service and Maintenance
Roads and Grounds Maintenance
Plumbing and Pipefitting
HVAC Maintenance and Repair
The elements of our business approach to successfully accomplish our mission include a committed and visionary leadership, strategic planning for the company and for each asset that we manage, a commitment to our customers and their needs, measurement and analysis of our work, human resources management, and process management. To continually improve our process and services, we measure our performance through quality programs, monitor customer satisfaction indices, and maintain an awareness of industry innovations.
BRCS follows the Management by Objectives (MBO) approach throughout the organization. The MBO approach is a process of joint goal setting between management and staff. Managers work closely with staffs to establish performance goals and plans that are consistent with higher level project and organizational objectives. The organizational objectives are rooted in the BRCS corporate culture, which is based on accountability, communication, coordination, and innovation. These cornerstones support our approach to all facility maintenance projects.
We are a fiscally responsible, financially stable organization and seek to provide high quality, cost-effective services. We carefully and responsibly select all subcontractors and have organization-wide measures for employee retention and development. Our commitment to quality is reflected in the BRCS mission statement:
To provide service excellence unparalleled by our competition.
We have a broad account base serving GSA, and currently support government operations in Regions 1, 2, 3, 4, 7, 8, 9 and 10.
The facilities presently maintained by BRCS include federal courthouses, U.S. border stations, and high rise buildings with elevated security requirements.
Our exacting standards have garnered us high recognition in the facility maintenance industry. Two of our buildings have received The Office Building of the Year (TOBY) award by the Building Owners and Managers Association (BOMA). A number of our buildings have also been recognized with Energy Star designations.
The foundation of our service quality is trained professionals focused on improving your environment, equipped with technology to better control equipment and manage workload, backed by rigorous self-inspection and independent audit.